Have you filed online EPF e-nomination ??
Hello there !!
Hope you all are doing good. Well today I will update you with a new facility provided by EPFO. Undoubtedly EPFO is continuously striving to improve digitally & thus providing better services to its subscribers. In view of this, EPFO has introduced a new facility of e-nomination for its subscribers. Now, you can file online e-nomination through UAN portal.
As we know that in case of death of the PF subscriber, only the nominee can withdraw the PF amount. Thus, this nomination process is very important to ensure that the family gets the PF saving in case of any miss-happening with the subscriber. With this new feature being introduced by EPFO, now the subscribers can add more than one nominee & can fix the percentage of PF savings for each nominee.
This e-nomination feature will enable the member to easily file the online pension claim & in case of demise of the member, the nominee will be able to file online claim.
Following are the salient features of new e-nomination functionality:
UAN should be activated
Aadhaar should be verified & linked with UAN
Mobile number of the member should be linked with Aadhaar
Member should have uploaded his photo in the profile section
Aadhaar of all the nominees in e-nomination is mandatory
Photo upload of all the nominees in e-nomination is mandatory
Aadhaar based e-Sign by member in e-nomination is required
Digitally signed nomination PDF will be available in the login account of member & field office.
No need to send any physical document to the employer after the online nomination is done.
The EPFO has requested all the employers to encourage & facilitate the members to urgently file their e-nomination.
Step by Step procedure for filing online e-nomination form through UAN portal
Firstly, make sure that our UAN is activated, Aadhaar is linked with UAN, registered mobile number is linked with aadhaar & your photo is uploaded in the UAN portal (Go to Menu View>Profile).
Log in to UAN portal URL: https://unifiedportal-mem.epfindia.gov.in/memberinterface/
Click on tab Manage>E-Nomination
After saving the system will prompt "Having family: Yes/No". If you will click on "No", system will directly prompt to PF nomination details. After completion of EPF nomination, system will ask for EPS nomination.
If you will click on "Yes", system will ask you to enter family details. Add the details of all family members by "Add New" button. Aadhaar & photo of all the family members are mandatory.
After entering all the family details, click on "Save Family Details".
After that select EPF nomination details from the family members, & put the percentage of EPF share & click on "Save EPF Nomination" tab.
After that member has to e-sign for finalizing nominations. By clicking on e-sign system will ask if you want to proceed for e-sign registration.
For e-sign Virtual Id is mandatory which can be generated by visiting UIDAI official website.
Once you have created your virtual id, you need to enter the virtual id, click the checkbox & click on "Verify" tab.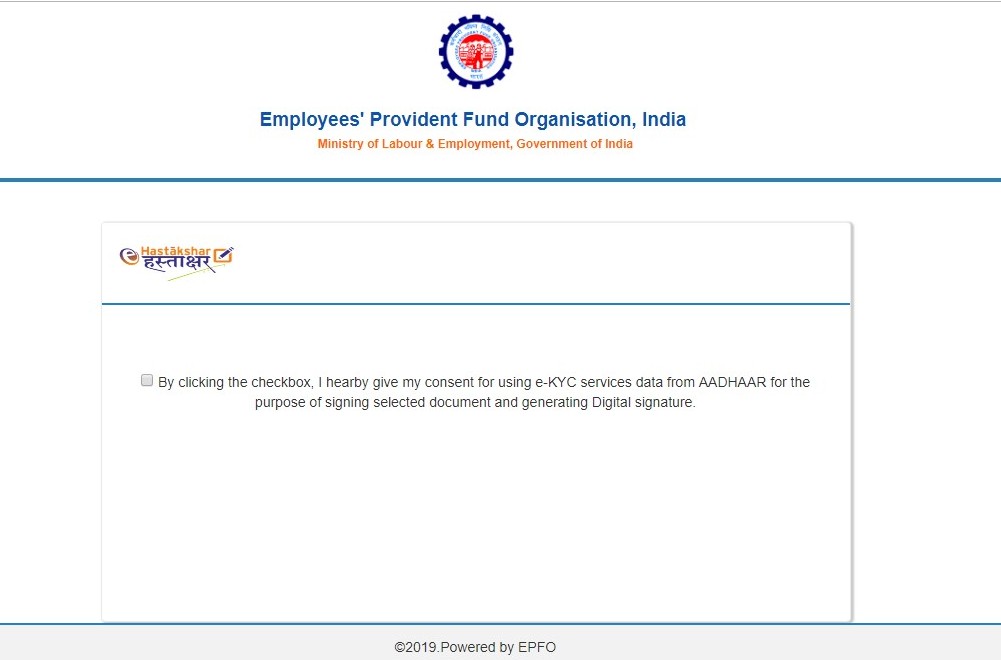 Enter the OTP received on your mobile number linked to Aadhaar to finish the process of e-signing the EPF nominations.
After e-sign successfully, you can view nomination details in pdf. Similarly you can enter new nominations as well by following the same procedure.
So, what you are waiting for?? Start filing EPF online e-nomination & inform your colleagues as well.